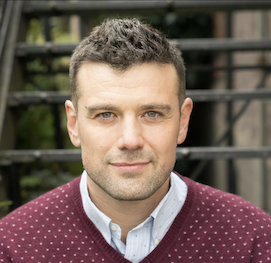 Ryan Purcell
Director & Performance Coach
Ryan Guzzo Purcell, Program Director, helps leaders develop authentic communication, bringing out the power and clarity they need to cut through the noise. With clients including Randstad, EY, Deloitte, Seattle Genetics, and Medtronic, Ryan has worked on everything from global strategic messaging and cross-cultural communication, to helping doctors translate complicated science into stories that capture and inspire an audience.
Ryan is the founder of The Williams Project, a repertory theatre company in Seattle, Washington, as well as a theatre director with 20 years of experience. He has dipped his toes into political speechwriting and performance coaching, with his first client recently elected to the Washington State Legislature.
Ryan's teaching credits include Stanford University, Brown University, and San Francisco Juvenile Detention. He received his M.F.A. from Brown and his B.F.A. from Boston University.