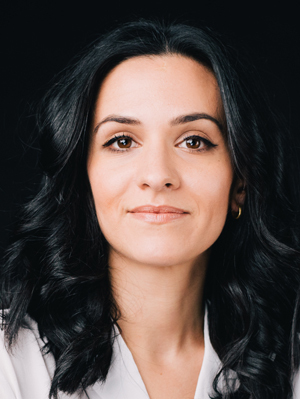 Neagheen Homaifar
Performance Coach
Neagheen's work with Stand & Deliver has included coaching teams from PwC, Cartier Women's Initiative, and Skyline Construction. At its core, her work is oriented toward helping leaders express themselves richly and efficiently. Her background in entrepreneurship, education, consulting, and performance contributes to her guiding beliefs that curiosity, humanity, and collaboration are what sustain strong leaders.
Neagheen's expertise is derived from both the business and performance worlds. As a management consultant, she worked with the nation's largest urban school districts, philanthropic organizations, and for-profit education entities. From there, she went on to join the founding team of Minerva University, a global liberal arts and sciences institution named the most innovative university in the world. As director of admissions, she helped originate and operationalize a merit-based selection process used by tens of thousands of applicants from over 95 countries each year.
As a performer, Neagheen has worked on screen with TV networks including NBC/Peacock, FOX, and Apple Studios as well as in film and theater. These experiences have reinforced the importance of using the voice, body, and one's state of mind to effectively communicate in any setting.
Neagheen graduated with honors from Harvard College, is a recipient of the International Baccalaureate Diploma, and is based in Washington DC.

email hidden; JavaScript is required